While viewing the spectacular collection of photographs chosen for SoAG's 33rd Annual Juried Photography Show, I was struck by how much digital/computational photography has come to dominate a field once defined by images created solely with traditional light sensitive materials and film cameras. Imitating painterly visions and abstract styles has become customary, challenging old notions of what constitutes "straight" and "altered" photography.
Although methods today may rely more on algorithms than optics, current "ways of seeing" in this show largely rely on time honored conventions of fine art photography. In the end it's about seeing the three dimensional world and transforming it, calling attention to color interactions, the quality of light, framing strategies, scale, and composition. The subject matter itself may provoke thoughts and emotions about current events or enduring literature. Often the sheer pleasure and joy of looking at the world, sensitively recorded and expressed, delights or puzzles us.
The overall quality and craftsmanship of the works in this show, as well as the individual vision of each photographer, is on full display for all to see in person. The judicious design of the gallery installation respects the power of each piece, frequently forming related groups of two or three. Visiting the gallery in person is a very different experience from viewing works online, where scale, surface and presentation is arbitrary or invisible.
I've tried to keep my commentary brief, just a snapshot of the multiple, expanding thoughts I had to rein in, as I viewed this extraordinary exhibition. As such, I share my thought processes, my overall approach in making the selections for winning entries.
Seeing all of the works in person promises to lead you on a stimulating journey of discovery, surprise, and contemplation. Please visit the gallery to see these works in person! You will undoubtedly notice the subtle nuances missing in the online show.
Ray Helmke • Scrap Metal Worker
An aura of light and smoke envelops the scrap metal worker as he industriously torches metallic materials, ignoring the gigantic metal claw suspended menacingly above him. It's a celebration of all laborers who shape and reshape steel and other scrap metal into newly functional wares. Sharing a sensibility with FSA photographer Walker Evans, this photo seduces and frightens us as we witness the nobility of honest labor in a world that has begun to embrace recycling and reusing as a way of life.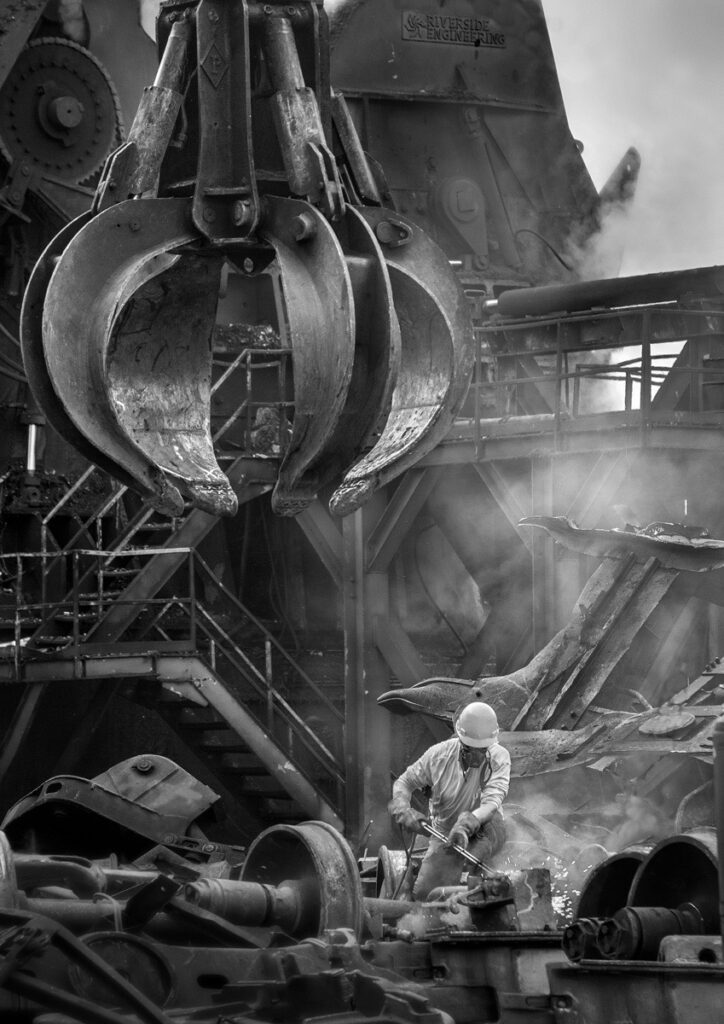 Spirits ascend, heaven bound, as three shrouded bodies mirror our thoughts of recent atrocities: the horrifying invasion of Ukraine causing 4000+ civilian deaths, the front page of the Sunday New York Times announcing the milestone of one million COVID deaths in America, and tragically, our recent spate of mass shootings from neighboring Buffalo, New York to Uvalde, Texas and Tulsa, Oklahoma. This triptych is a sad reminder of heinous crimes committed against innocents. Our once safe venues, such as elementary schools, supermarkets, and hospitals, now loom as unsettling reminders that death can touch us all in unexpectedly brutal ways.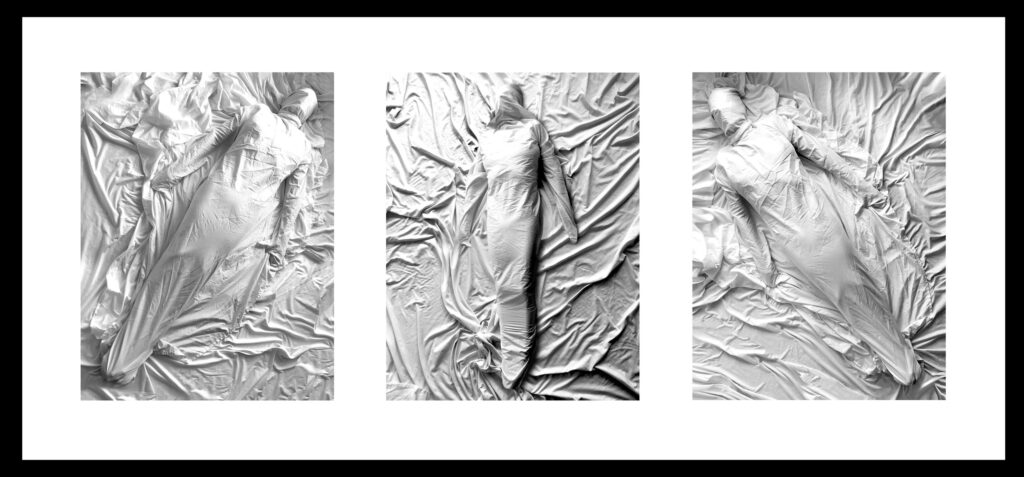 If I asked, "What part of a dog reveals boundless joy?" what would you answer? Framed to include the smallest hint of a happy dog, Pepper/Snow affords me some comic relief from the many photos suggesting angst and uncertainty in this show. Against the soft focus snowy background, we see just enough of the dog to surmise it is romping around with abandon. The joyful "tell tale" tail, sprinkled with snow and wildly fanning outward into an arc that echoes the arc of weeds in the softly focused background, promises emotional warmth against the chill of winter, expressing so much about living in Upstate New York. This is an extraordinary composition full of spontaneity. But for me, it's less about the tight composition and more about my feeling of happiness, just looking at the photo. This is a real achievement, as winter is my least favorite season!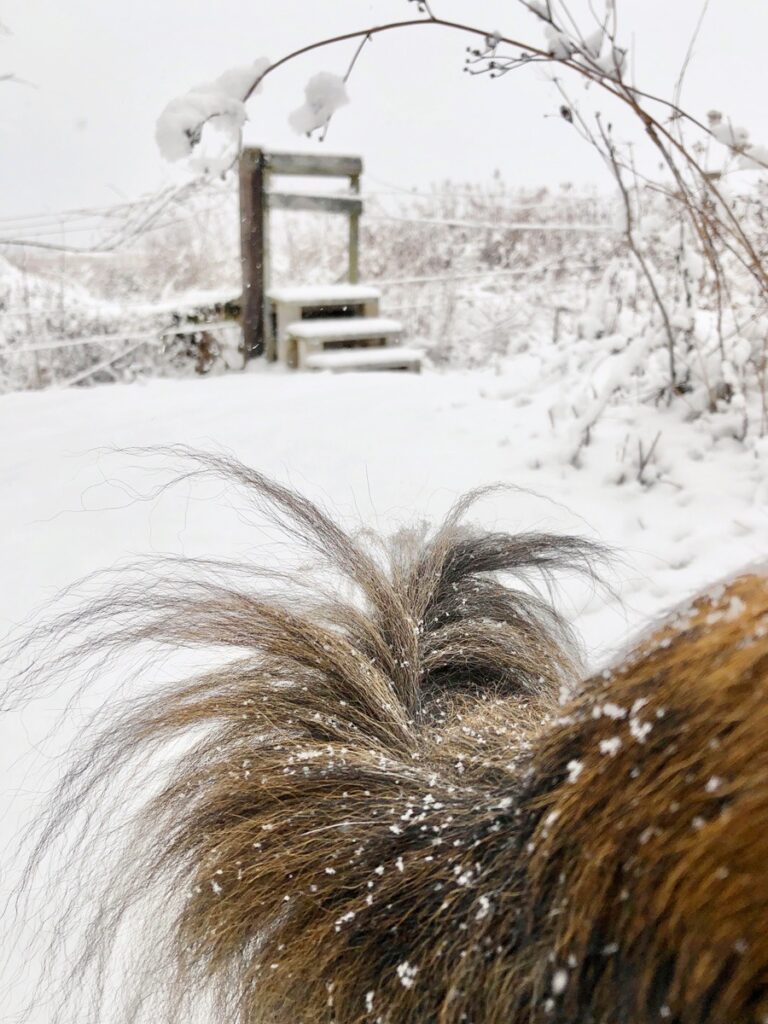 Amanda Devine • LIFE LINES—Harmony
Minimalism comes to mind when viewing Life Lines. Abstraction is achieved with sand-textured, flat space, desaturated color, and wilted plant forms that suggest brushstrokes and a mark making aesthetic. The sand and water are timeless, yet the plants are ephemeral. I see visual poetry, as Life Lines becomes an ode to our (im)mortality, perhaps whispering a warning, "sea levels are rising" and "climate change is real."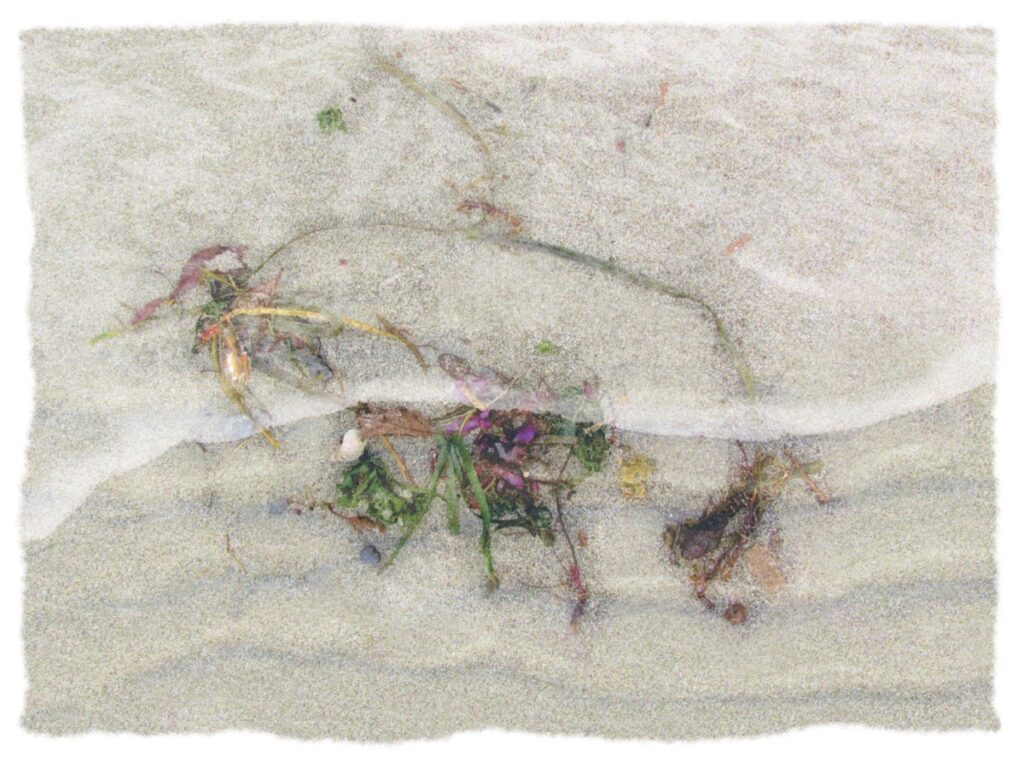 Jari Poulin • Tasting Words, Hearing Keys
Tasting Words, Hearing Keys clearly demonstrates photography's dive into the world of digital manipulation. Ironically the analog typewriter keys assert a place of prominence in the image, evoking an awareness of past and present within one space.
It is difficult to decipher the entangled layers of language and image in the online version of this photograph. To fully appreciate this entry, a visit to the gallery is a must. How else to read phrases, "I am glad to be alive" or "I will try to live more simply…"?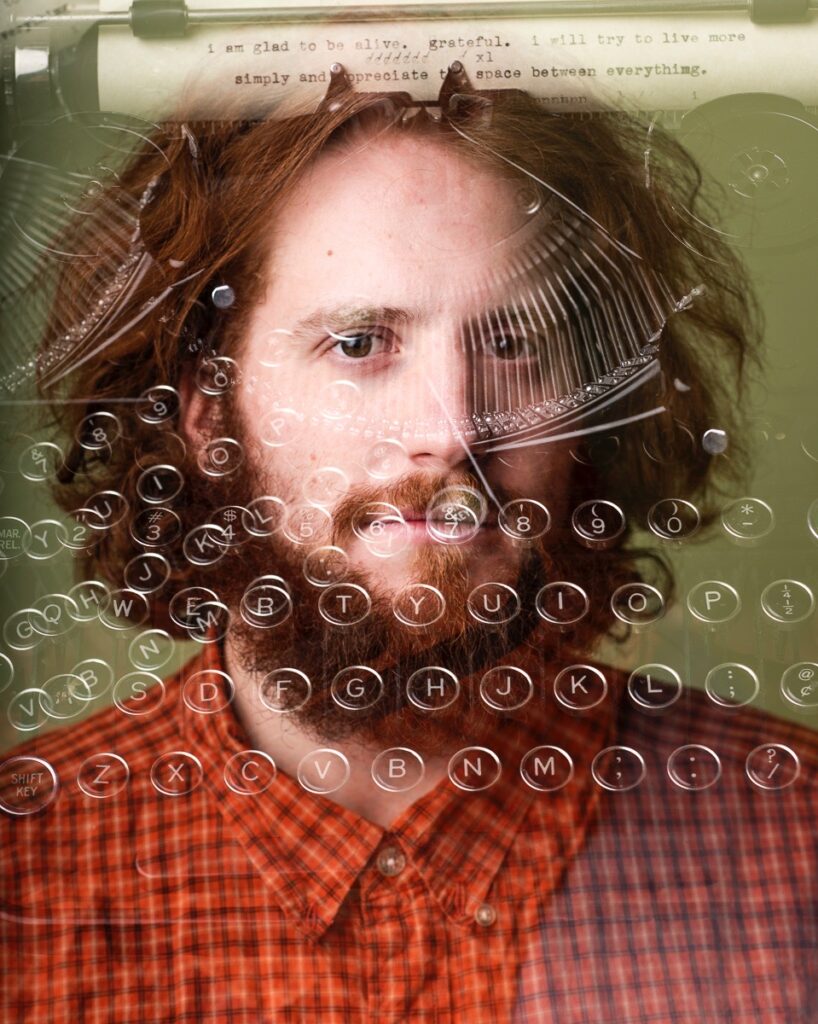 A young black woman tilts her head forward, the light gently glinting off her smooth skin, muscular, yet soft. A golden chain encircles her neck, contrasting beautifully with her intricately plaited hair. The handling of light and composition harken back to the paintings of 17th Century Vermeer. These details coalesce into a gesture of strength, suggesting a person, who despite life's obstacles, shows unbending resolve. I was reminded of sculptures I have seen by America's Venice Biennale artist Simone Leigh, whose artwork portrays women of color, celebrating them for what they have done throughout history, rather than what was done to them. Similarly, this photo is a visual celebration of black women. It uplifts and inspires me with its depiction of resilience, beauty, and strength.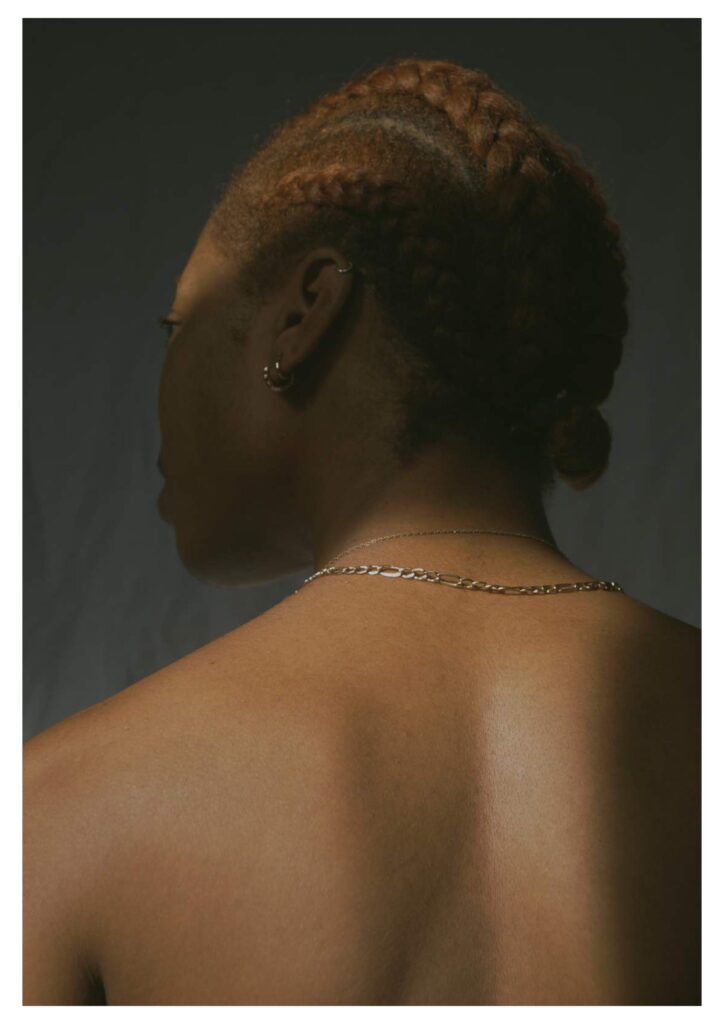 Although I am selecting only one image, it was seeing the three sculptural designs together in the gallery installation, snaking their way up the wall, that caught my eye. Talk about transformations! What a wonderful marriage of computational imagery and fabricated sculpture! Yes, it explodes up and off the wall, but it also suggests the multicolored, alluring skin of a slithering creature, camouflaged and weaving its way into a nest, a hive, or some other (un)natural habitat. A serpent in a Garden? Big Bang theory? Stories of creation and destruction tacitly hover, any way you look at it!