Vanessa McCaffery
I trained professionally as an artist but stopped creating any work for 10 years after a combination of life and health factors suppressed any drive to create.
In 2016 I encountered a massive snapping turtle. The resultant drawing, "Obstinance" found its way into a juried show in December of 2017, and I've continued work ever since.
I draw animals when I see or experience something compelling or fascinating that evokes an emotional or instinctive response. Sometimes it's a sort of recognition. Anthropomorphism, sure, perhaps.
Different people react to different aspects of the drawings. Often people tell me their own stories or beliefs about animals-proof to me that the work resonates with their emotions and instincts. Humans are not often visible to this point in my work, but the drawings speak to what we read into animals, how I relate to them, and my experiences of individual animals' emotions and attributes. I can't imagine these creatures don't have internal mental lives and souls of their own. Perhaps the line between human and animal is more human construct than anything else.
The animals have stories. Most have names. I find it an ongoing challenge to capture a sense of narrative, of the creature's story, without words or title. "Queen of Harpursville No.1" and "No. 2" both portray April the giraffe, whose live pregnancy and delivery on YouTube drew the attention of 230 million viewers. Being one of those viewers, I drove to Harpursville twice and followed the usual process: observe, photograph, and observe more.
When I review the photos later, a select few always tug at me as the animals themselves did. Drawing is not a rigid experience here. There are no mistakes, no erasing, no backtracking. Ink means commitment. Creating images with thousands upon thousands of pen strokes becomes a patient meditation over time. The speed of the work can very drastically from one day to the next. Acceptance of imperfection, and of what I've already drawn, becomes an exercise in letting go. I don't chase after hyper-realism, but enjoy pushing both the expressive limits and the natural subtleties of pen and ink as a medium.
Contact
561 Taggart Road, Newfield, NY 14867
---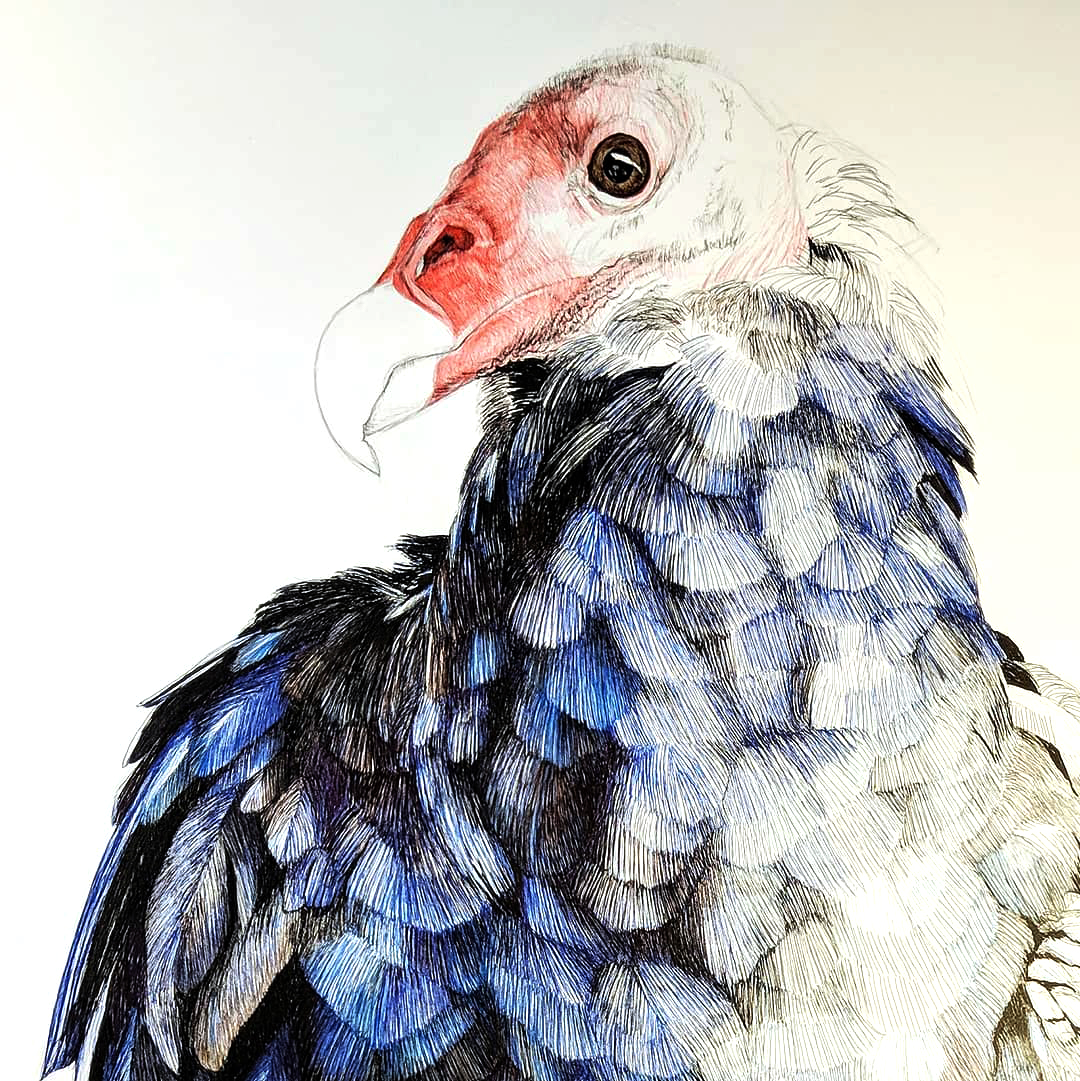 ---