Call for Entries: December Juried Show
This year's annual show will be presented both online and in our gallery from December 2, 2021 to January 2, 2022. However, plans may change as needed to abide by any new  Covid restrictions.
Entries are now being accepted! The deadline is October 29, 2021. Open to all 2-D and 3-D media except photography. Our prospectus provides full details. Or you can go right to EntryThingy to register and submit your application.
Life Within and Around Us, September 2–26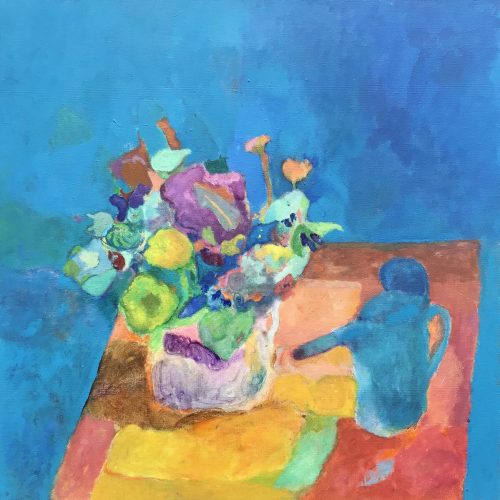 Life Within and Around Us features the work of 18 artists—photographs, paintings, drawings and sculpture. State of the Art welcomes a new member, Vincent Joseph, whose painting Watering Can with Flowers appears above. A reception will be held Gallery Night, Friday, September 3, 5–8pm. On Saturday, September 4, the gallery is open from 11–5pm as part of the Greater Ithaca Art Trail.
The Small Works Show in the Salon, featuring works for $50 or less by members, with proceeds helping to cover the cost of our newly completed renovation, can still be seen on line, has been extended into September.
The New Members Show, featuring work by Christine Chin and Irina Kassabova can still be seen on line.
Featured Member Artist: Harry Littell
Ileen Kaplan will have her oil painting, Sunflower and Friends, as well as other floral paintings, displayed at West End Gallery in Corning, New York.
Eva M. Capobianco will display one work from her Finger Lakes Trail series at the Southern Tier Biennial exhibit, located at the Tri-County Arts Council Gallery in Olean, New York. The show opens on September 25 and runs through November 6.
Harry Littell recently published a new photo book, "Lest We Forget," which views the pandemic through everyday scenes, details, and historical reminders found in a small swath of upstate New York, including Auburn, Cortland, Elmira, Ithaca, Owego, and Watkins Glen. Photos were made between September 2020 and March 2021. With an afterword by Ron Ostman. The book is available from MagCloud
@stateoftheartgalleryithaca